Internet Firewall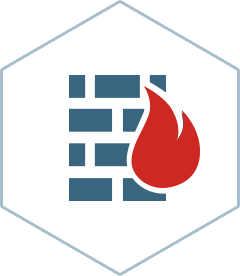 Internet Firewall Protection
Utilized to secure an organizations network from the Internet, an Internet firewall is essential in order to ensure that your company is protected from malicious attacks at all times. Without an Internet firewall, your company will be more susceptible to harmful system downloads, dangerous viruses, Trojans, spyware and network intrusions. Deployed at both the UTM and Internet Gateway level, this important firewall security solution is essential when it comes to allowing restricted access from the Internet to local resources. In general, the term Internet firewall is somewhat broad and covers more specific types of firewalls like a web application firewall, UTM firewall, software firewall and proxy firewall. For any organization that regularly uses the Internet for day-to-day business operations, it is extremely important to implement an Internet firewall that can routinely protect all system and network components.
The Nebero Systems Internet Firewall
When it comes to ensuring that your organizations network is continually protected, there isn't a better option than our Internet firewall. By utilizing the Nebero Systems firewall, your business will have its local network secured from harmful Internet exposures like viruses, Trojans, spyware, BOT attacks and other malicious attacks. In order to provide your organization with optimal protection, our firewall is deployed at the Internet gateway and UTM levels so that certain downloads, content and web based information is filtered or blocked from your network. In addition, the Nebero Systems Internet firewall will help protect all of your local resources by preventing restricted access to your network. After investing a lot of time and research into developing our world-class firewall protection, we are now able to protect your network and important data better than ever before.
Benefits of Internet Firewall Protection
Although a firewall is relatively broad and incorporates several different types of firewalls, it is crucial to ensure that your network receives optimal protection at all times. Without an effective Internet firewall solution in place, your network will be exposed to a wide range of unwanted, potentially dangerous attacks. Some of the additional benefits that this type of firewall can provide include:
Maximized protection against internet based intrusions and attacks.
Preventing access to important local resources.
Secure Internet gateway and UTM level deployment.
Filtering and blocking potentially harmful network access.