Linux Firewall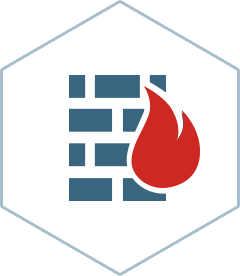 The Linux Firewall
There's no question that a Linux firewall is one of the most protective software types available to ensure that your organization is secure at all times. Depending on the specific needs of your company, an open source firewall could be the main difference between your network receiving maximized security or being exposed to a wide range of unwanted, malicious system attacks. Acting as a specialized barrier between your network and the outside world, a Linux firewall will block and filter potentially hazardous system intrusions from accessing all of your organizations important data, information and applications. As a specially designed protective software, this type of firewall is ideal for open source operating systems and is generally easy to use and configure. For any company that has a strong Internet presence while frequently utilizing the web for business operations, it is extremely important to incorporate an effective Linux firewall. Additionally, because virtualization continues to grow in popularity and provides different organizations with specific competitive advantages, this specialized software will act as your networks main protective component. Without an open source firewall, your company will regularly be subject to a variety of different network intrusions that could either slow the system down to a crawl or cause it to stop working all together.
Nebero Systems Open Source Firewall Approach
Because we have reinvented how open source technologies are used, the Nebero Systems open source firewall software is head and shoulders above the competition. Our software is a customized distribution derived from the leading open source technology based frameworks, software's and Linux operating system. It is a comprehensive and flexible system that offers scalability and unmatched functionality to manage security and implement Internet usage policy. Continually dedicated to providing your organization with optimal security protection, our innovative firewall will ensure that your network is safe at all times. Making sure that all of your company information and applications are always protected, we are proud to bring you a firewall system like you've never experienced before. With a wide range of different malicious attacks that can potentially enter your organizations network, like spyware, viruses, Trojans, malware, spam, data leakage and system intrusions, it's critical that you have an effective firewall in place to maximize security protection. Through our newly created open source firewall software, even the most complex attacks will be prevented from gaining access to your company network. Our solution is easier to install and manage through a web based interface, very easy to create and manage network security rules and definition of policies to control the usage.